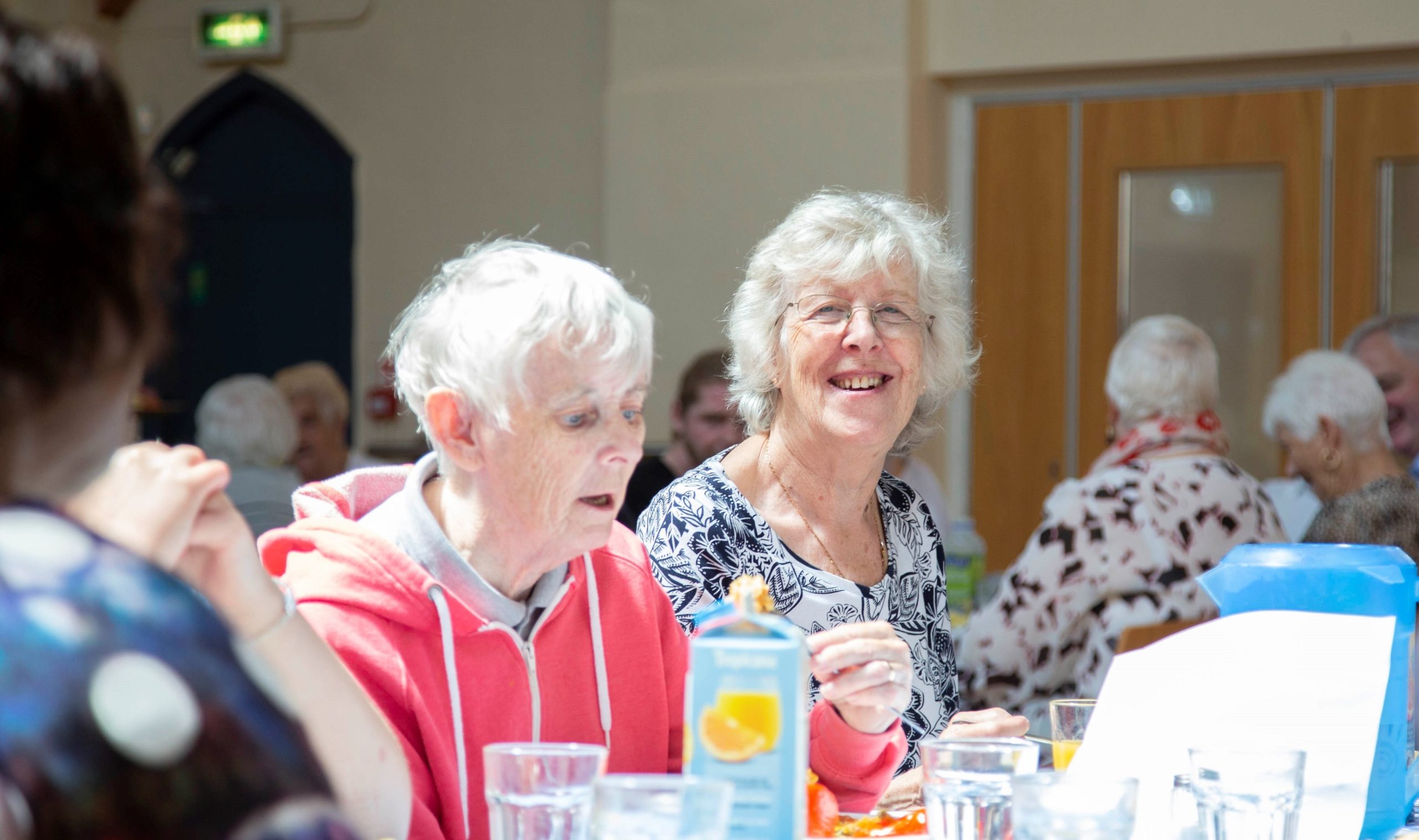 Walworth Community Food Hub
Deliveries are 10am-1pm and 6pm-8pm, Tuesday to Saturday.
New enquiries: call Southwark Council's Covid-19 support line on 0207 525 5000 (from 9am-5pm), or email covidsupport@southwark.gov.uk.
Make changes: if you are already receiving parcels from us and wish to pause or cancel or change deliveries: TEXT Deliveries on: 07380336838 or Call Pembroke House Office: 020 7703 3803

Delivery schedules are finalised by 3pm every Monday for the week ahead.
Contents
General information
Information for current recipients
Information for referral organisations
The Walworth Community Food Hub has been set up to help local residents significantly affected by Covid-19. It is operated by Pembroke House staff and volunteers, and supplies fresh food via volunteer cycle couriers direct to residents' doors.
We've been able to get food packages out to a wide range of people in acute need: from a mother with a several-week-old baby who has just been discharged from hospital with Covid-19, to struggling families in multiple occupancy households with no recourse to public funds, to one venerable recipient of 101 years old! The feedback we are getting is that these deliveries really do make a massive difference.
About the scheme
How much food are you distributing?
Currently we are distributing over four tonnes of food, via 450 individual volunteer courier journeys, to over 400 households every week, feeding an estimated 1200 people a week. We have 167 volunteers active volunteers.
Since March we have delivered over 225 tonnes of food to recipients experiencing food insecurity. That's a total of over 25,000 food parcels prepared in our hub by volunteers, and delivered by volunteer couriers to doorsteps across Walworth!
What's in the food packages?
The bags are different each time. They average eight kilos and contain a mix of fresh fruit and vegetables, often eggs, bread, snacks, meat, dairy and some ready-meals. We aim for a balanced diet and a varied mix.
Is there any provision for culturally appropriate food, or other options available?

We have 5 options:
REGULAR – Standard option, includes meat (when available)
HALAL – Includes Halal Meat, (when available)
PESCETARIAN – Includes fish, but no other meat, (when available)
VEGETARIAN – Includes dairy & eggs (when available)
VEGAN – Vegan
What area do you cover?
1 mile (1.6 km) as the crow flies from Pembroke House (SE17 1QR). So that's all of SE17 and some parts of SE1, SE5, SE11, SE15 and SE16.
You can check the distance between Pembroke House (SE17 1QR) and your postcode here: Distance Between Full UK Postcodes
Who is receiving food?
Our current list includes regulars to the Pembroke House Lunch Club and the Walworth Living Room, as well as the following partner organisations:
1st Place
Age UK Lewisham & Southwark
Albrighton Community Centre
ASCO TRA
Body & Soul
Brandon TRAs
Creation Trust
Dad's House Charity
Dragon Cafe
Edible Rotherhithe
Ingeus
InSpire
IntoUniversity
Lambeth Social Prescribers
Manor Place Hostel
Metro Charity
North Walworth Mutual Aid
Notting Hill Genesis
PACT
Quay Health Solutions
Solace Women's Aid
South London & Maudsley NHS Foundation Trust
Southwark Charities (Christchurch & St Mary's almshouses)
Southwark Council Covid-19 support
Southwark Day Centre for Asylum Seekers
Southwark Housing Officer
Southwark Irish Pensioners Project
Southwark Pensioners' Centre
St George the Martyr Charity
St George the Martyr Church
St Matthew's Church
St Mungo's
Surrey Docks City Farm
Surrey Square Primary
Tatum Community TRAs
Time and Talents
Unity Works
Villa Street GP
Can people self-refer?
If recipients are not already in touch with Pembroke House or one of our local partner organisations, they can be referred to the Pembroke House food delivery scheme via the Southwark Council Covid-19 support line: phone 0207 525 5000 from 9am-5pm, or email covidsupport@southwark.gov.uk.
How can I get in touch?
The quickest was to make amendments or cancellations to an existing food delivery service is to text: 07380336838.

Or during working hours you can call the Pembroke House office: 020 7703 3803
Frequently Asked Questions
How much food will I get and how often?
The current options are:
Standard bag (approx 9kg) 1 x week (1-3 people)
Standard bag (approx 9kg) 2 x a week (3-5 people)
Standard bag (approx 9kg) 3 x a week (5+ people)

If you are receiving not enough, or too much food, for the week. Let us know. TEXT Deliveries on: 07380336838 or Call Pembroke House Office: 020 7703 3803
What if I have a request for a specific item, or don't want a specific item?
Sorry, at this time we cannot process any other requests except for those mentioned above.
Can you let me know in advance which day I'm going to get a delivery?
Yes, deliveries are between 10am-1pm or 6-8pm, Tuesday to Saturday and we will send a text in advance to confirm your delivery slot/s for the week. If you are not receiving these, please make sure we have an up-to-date phone number for you.
Can the couriers give me a call?
Sorry, no. For safeguarding, our couriers are never given your phone number. If you can't answer the door we suggest you arrange for delivery to a neighbour.
What if I've been told I've been referred, but am not receiving the bag?
Please let us know TEXT Deliveries on: 07380336838 or Call Pembroke House Office: 020 7703 3803
Is the food out of date?
We never send out anything beyond its Use By Date. Occasionally some food in the parcels may be past the Best Before date.

Use By dates indicate when food is safe to eat, but the Best Before date is different, and is only a recommended eating date for maximum freshness, and can often be extended.

For any food included in a parcel that is past its Best Before date, Pembroke House will have received a certificate from the manufacturer extending the best before date for these specific items, and guaranteeing that the food is safe to eat.
Our hub follows a strict food hygiene protocol around the refrigeration and safe storage of fresh food.
We are a local organisation and would like to refer people to you scheme – how do we become a partner organisation?
Please email info@pembrokehouse.org.uk with NEW REFERRAL PARTNER in the subject line.
What are the criteria for receiving food parcels?
We prioritise regular deliveries to people who are self-isolating due to Covid-19 symptoms, suffering a sudden short-term lack of funds due to Covid-19 (loss of work, etc.), or experiencing significant extra pressure as carers.
We prioritise those who do not have other means of support such as friends, family or neighbours, access to online shopping, or access to food banks .
Where capacity allows, we will also deliver food to those who are house-bound or especially vulnerable to Covid-19 due to age or health conditions.
We rely on the kindness of people like you.