On Tuesday evening, our community met over Zoom to test a new approach and start a different kind of conversation.
We wanted to bring together people who wouldn't normally meet, to consider how we can build a neighbourhood that works to tackle the root causes of food insecurity: poverty and inequality.
After welcomes and introductions, we split off for smaller group discussions where we asked:
To build a neighbourhood where no one is without food:
What are the things we need to think about?
What are the steps we could take?
You can see a record of the thoughts and suggestions we came up with on this Board of Ideas. 
And below, you can see a brilliant drawing of the conversation from our talented partner Rachel at F.A.T. Studio.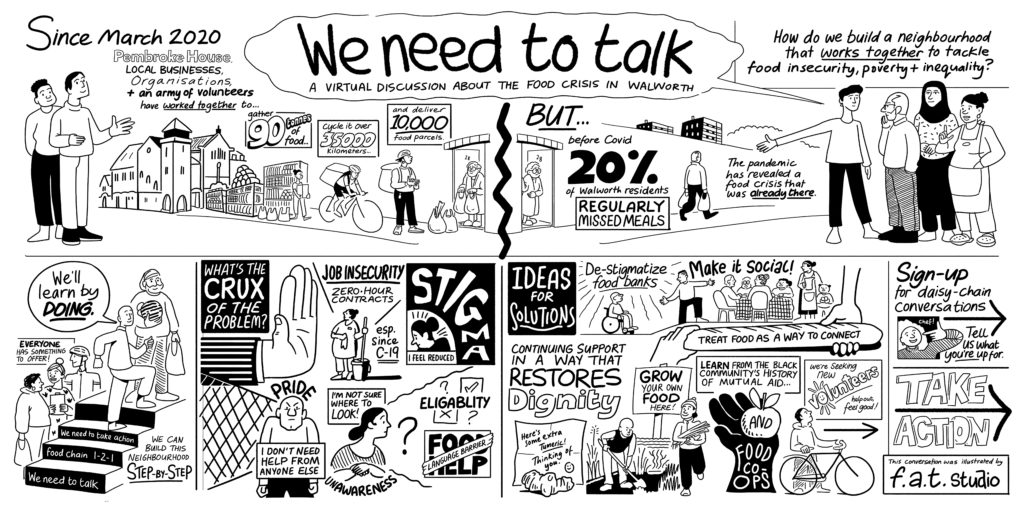 You can take a closer look at the image here.
The event left us buzzing with ideas. Over the coming weeks and months, we want to work together as neighbours and partners to start tackling some of the issues that came out of the call.
That's why we're organising a 'daisy chain' of conversations across the neighbourhood – where we'll connect people in the area for deeper, one-to-one discussions about our community and food.
These conversations will feed into more detailed plans for what we do next.
Thank you to everyone who joined the call. Whether you're a participant, recipient, volunteer, donor, partner or Pembroke College Member, your wisdom and experience is not only welcome but needed.